Suggestion

P3: Somewhat important
It would be nice to have some unique identifier in the https://testresults.qt.io/logs link that can be used to easily find the relevant configuration in COIN in order to schedule a build (or just to e.g. find more information about how it was built).
For example, when trying to find the config that was used for this log in COIN, there are three different Ubuntus that it could be at first glance: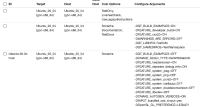 In this case I can see that sscache is in the URL so that narrows it down to two, but it would be a lot easier if I could just copy some ID from the URL and search for that in the list of configs in COIN.