Type: Bug

Priority: P1: Critical

Affects Version/s:

Qt 3D Studio 2.3 BETA2
Commits:

f98fbe77e3f4199f35383a90d438f6cf59d34354, 78f9adbfd2e1fb7803b48c1746e2a30204eb07c9
Drop-shadow are cropped in right-side and bottom with bigger fonts. In image below, the font sizes are 36 and 120. Other than font size, the settings for the two text elements are exactly the same.
Horizontal and Vertical offset is set to 50.
Also text is offset much more with bigger fonts.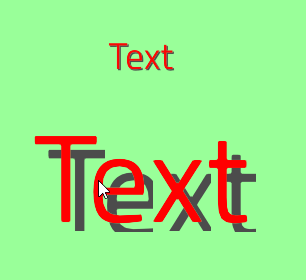 Using nightly build from 11th March.
is required for

QT3DS-3181 Regressions in distance field renderer

Closed