Technical task

P2: Important
16f3ba139 (dev), b59f7eeb0 (dev), 310650815 (dev)
The current handwriting layout does not have the language and hide buttons anymore since https://codereview.qt-project.org/c/qt/qtvirtualkeyboard/+/337986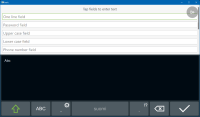 The buttons cannot be restored to bottom row, because there would be too many buttons.
The proposed solution is to change the handwriting layout so that the buttons are organized to left and right side of the handwriting area: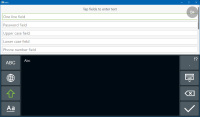 Note that the space key is to be removed completely and replaced with alternative key popup containing a space character. This makes sense, because it is expected that the handwriting input method can handle space character, but it is still available through alternative characters as a backup.