Type: Bug

Priority: P2: Important

Affects Version/s:

5.4.0

,

5.4.1

Environment:

Linux Ubuntu 14.04 (gnome-unity)
When a QDockWidget is docked on the main window, it can be dragged by the user and dropped out of a dockWidgetArea to become a floating window.
In this case the QDockWidget is not selectable or movable anymore, the content can't be accessed.
Explanation with the Dock Widgets example that can be found in « examples » in QtCreator:
WARNING: as explained below, give the focus to an other application removes the problem, so all the example must be followed at once without switching to your browser to see this text.
Scale and move the main window to put it on the top left of your screen :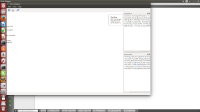 Drag a QDockWidget on the center of the screen :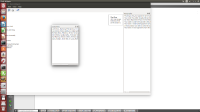 Click anywhere on the application (on the text "The Boss" for exemple) to lose focus on the dockWidget and give focus to the main window.
Click on the dockWidget to make the dockWidget move or click on the list.
=> Nothing happens
=>I expect that the dockWidget moves or that the item on the list is selected, like with Qt5.3.2.
Click on the top left corner of the main window, on the « View » menu for example :
=> The 2nd item on the list is selected, as if the dockWidget were on the top left corner at the position (0,0).
=> I expect that the View menu works.
To make the dockWidget works :
Solution 1 : hide and show programmatically :
Move the main window on the right, all the menu will works anew.
Click on the menu « View » and click on the dockWidget menu to hide it. The dockWidget is hidden as expected.
Click a second time on the dockWidget menu, it appears as a floating window. It works fine, it can be moved…
Solution 2 : give focus to an other application :
Click outside the main window on an other application.
re-switch on the DockWidget example.
=> the floating dockWidget that was blocked is anew movable.
Now you can dock the widget on the main widget and restart the example to break the application an other time.
Note : may be in relation with the bug 42818.
relates to

QTBUG-42818 [REG 5.3.2->5.4] XCB: QDockWidget invisible after setFloating(true and changing title bar widget

Closed