Bug

P1: Critical
aed7b5f370 (qt/qtbase/dev) aed7b5f370 (qt/tqtc-qtbase/dev) 4d10022a8d (qt/qtbase/6.4) 4d10022a8d (qt/tqtc-qtbase/6.4) 4d10022a8d (qt/tqtc-qtbase/6.4.0)
Running macdeployqt on the "Web Engine Qt Quick Minimal Example" produces a `.dmg` image with an application that crashes when started because the QtWebEngineProcess.app is not copied to the minimal.app and minimal.dmg correctly. This issue affects all apps that I've tested that use QtWebEngine MacOS.
Inspecting the minimal.dmg image shows that the QtWebEngineProcess.app has a size of Zero bytes: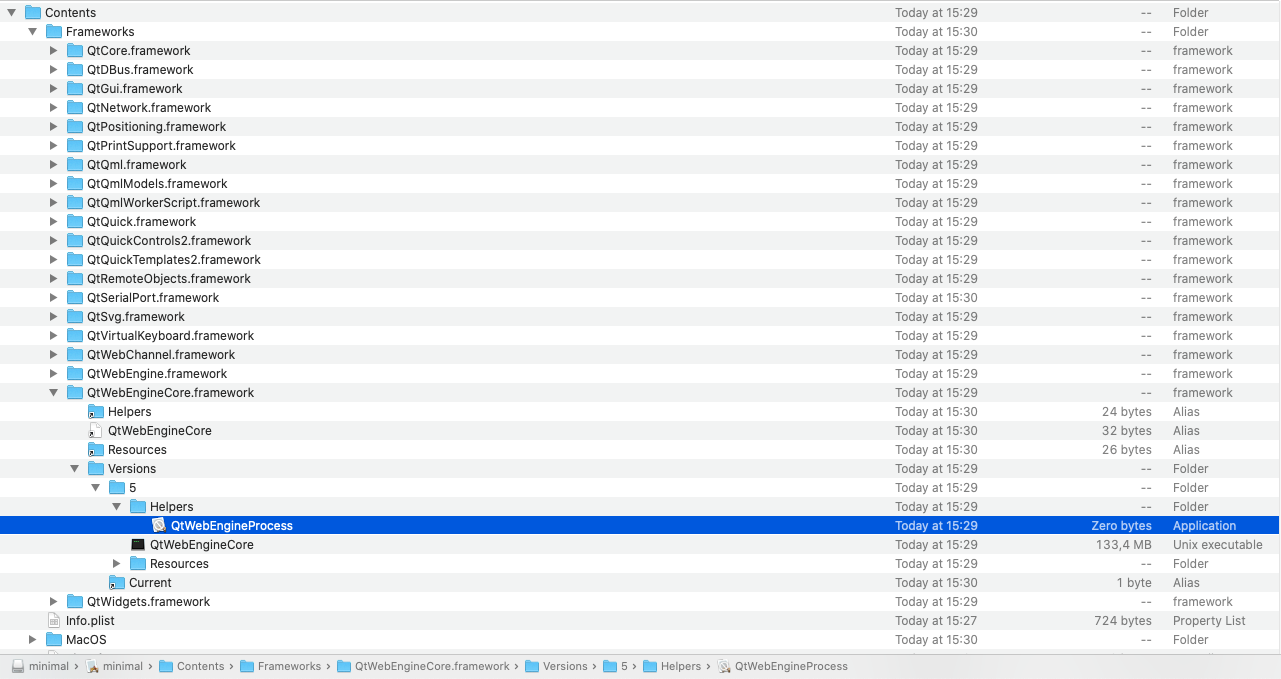 As a workaround to this, one can copy the `QtWebEngineProcess.app` from `Qt5.15.1/5.15.1/clang_64/lib/QtWebEngineCore.framework/Versions/5/Helpers/QtWebEngineProcess.app ` into the correct location in `minimal.app`, delete the `minimal.dmg` and run `macdeployqt` again.
For reference, this is the `macdeployqt` call I've done: `/Users/tomana/Qt5.15.1/5.15.1/clang_64/bin/macdeployqt minimal.app -verbose=2 -dmg -qmldir=/Users/tomana/Qt5.15.1/Examples/Qt-5.15.1/webengine/minimal/`
This issue is not present in Qt 5.12.5 (which the only other version I've tested.)