Type: Bug

Priority: P2: Important

Affects Version/s:

5.12.10

,

5.15.4

Labels:
The window moves downward when tying to extend its size by pulling the window's top edge. This happens in the following conditions.
Conditions :
The window's minimum size and screen's resolution size are the same
The window's geometry size is same or bigger than the screen resolution
How to reproduce
Set the screen's resolution to 1920 * 1080 and use QtBug94361.zip

or
1. Use QtBug94361.zip


2. Change minimum size to the screen's resolution size
3. Change geometry's size to something bigger than #2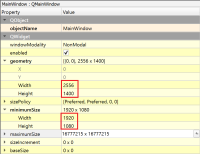 Run the application and, grab and pull the window's top edge to extend the window.
Result :
The window starts to move downward direction