Type: Suggestion

Priority: Not Evaluated

Labels:
Webflow is a good example of this.  Here's a screen shot of Webflow's property editor.

User can click on "PX" or "VW" and change it to a handful of options.  "VW" stands for "Visual Width" here, which is incredibly powerful considering you can say "I want this container to take up 50% of the visual width of this screen"  rather than plug in the pixel size.
Here are the unit options they allow users to change to.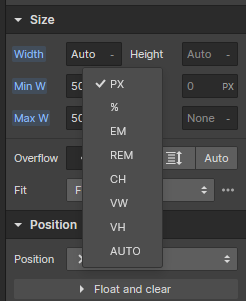 duplicates

QTBUG-11655 QML needs to have a resolution-independant / physical size measurement in addition to pixels

Open