Type: Bug

Priority: P2: Important

Affects Version/s:

6.2.1

,

6.2.2

Environment:

macOS Monterey 12.1—MacBook Air (M1, 2020)
When compiling a universal binary using QMAKE_APPLE_DEVICE_ARCHS="x86_64 arm64", opening a file dialog in the compiled application and attempting to access the Downloads, Documents, or Desktop folder causes the following dialog to repeatedly appear: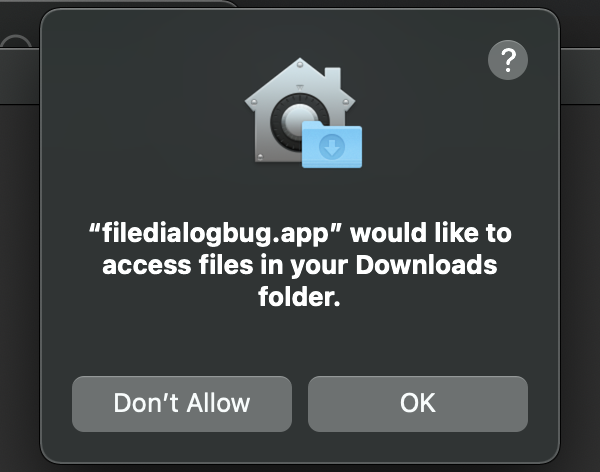 The issue is absent on regular arm64 and x86_64 builds. It is unconfirmed but I have only received reports from users on M1/arm64 systems.
This issue seems to occur when using CMake as well as QMake.
Giving full disk access or folder access in system preferences beforehand does not fix the issue—the settings are reset and the dialog reappears.
The amount of times the dialog appears seems to be random too—sometimes it goes away relatively quickly.