Type: Bug

Priority: P3: Somewhat important

Affects Version/s:

Qt Creator 4.7.0

Environment:

Manjaro Linux
During debug session I can sometimes see parts of system log in Application Output. It doesn't happen if I simply Run the application, only when I debug it.
Case 1: application is running in chroot. Application and gdbserver are being launched by Qt Creator via remote debugging + SSH. The app writes its logs to stdout and to syslog, so in Application Output I often see duplicated text. Not that in some cases the syslog ones are missing timestamps.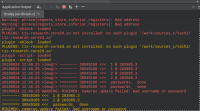 Case 2: application is running on a remote server with old SSH not supported by Qt Creator. gdbserver and application are being launched manually, Qt Creator then connects to it via "Attach to running Debug server". The SSH errors in "syslog output" were caused by my local script malfunction.