Bug

P3: Somewhat important

Resolution:

Cannot Reproduce

Qt Creator 4.13.3

,

Qt Creator 4.14.0-beta1

Windows 10, MSVC2019, MSVC2017
Some functions are not automatically detected by Qt Creator hence there's no editing function such as showing candidates or highlighting.
Happens with Qt Creator at least between v4.13 - v4.14.
Happens with Qt5.15 series kit but not with Qt5.12 series
Appears when Clang Code model is OFF
*How to reproduce *
Use 4000Chips Qt Sample (https://doc.qt.io/qt-5/qtwidgets-graphicsview-chip-example.html).
Select Qt5.15.x as the kit
See the attached screenshots as a reference.
The functions in the constructor such as setZValue or setFlags are not detected with Qt5.15.2 kit while they are with Qt5.12.9 kit.
Qt5.15.2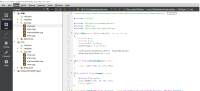 Qt5.12.9