Type: Bug

Priority: Not Evaluated

Resolution:

Cannot Reproduce

Affects Version/s:

Qt Creator 4.13.3

Labels:
When typing in Japanese, we normally
Type the sounds of a word
Choose the right characters from the candidates
However, when writing to in-place editor of Design mode the characters are confirmed automatically without pressing Enter. This results in breaking a word and it's more difficult to get the correct candidates for the word. Below image demonstrates the phenomena. As soon as an user type "めい", it's confirmed (i.e. there's no dot-underline) and only "ん" is the target of showing the candidate.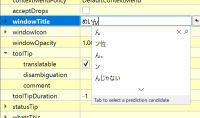 What is known so far
Happens with IME Japanese input as well as Google Input system
It's more likely to happen when replacing alphabet characters to Japanese characters
The problem is not seen by normal Qt App with e.g. QLineEdit
Happens ever since using Qt4
Appears e.g. QLabel, QMenu ...
The problem is not seen in designer.exe
relates to

QTBUG-45086 Qt Designer: QMenu inline editor can not accept chinese

Closed