Bug

Not Evaluated
If a dark theme is active, the background of the project tree is usually dark. The icon overlay for Qmake and Qbs project roots is dark as-well and it is missing a visible boundary against the background like most other file icon overlays have.
Would be good like so: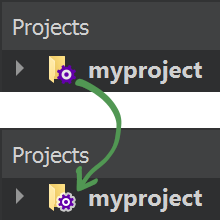 Also, I want to have all the original sources of our icons under version control in the Qt Creator source tree. So, let's have it in our main icons svg file.