Bug

Not Evaluated

Qt Creator 4.15.2

,

Qt Creator 5.0.0-rc1
11fd8232b790e8a24070709e046a55b44fbb2fc2 (qt-creator/tqtc-qt-creator/5.0) 36a0151c6d041a82203c40b4d8b6a800d04e361b (qt-creator/tqtc-qt-creator/master)
In Qt Creator 5.0, a <File System> node containing duplicates of all project files seems to be added to the Projects tree for all CMake projects.
To reproduce, simply create a new project using the Plain C++ Application template and select CMake as the build system. This produces the following Projects tree: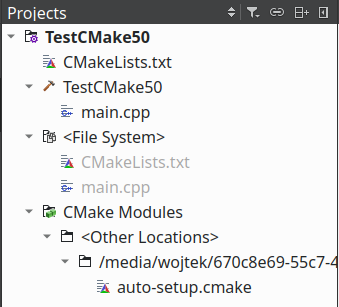 I've always thought the purpose of the <File System> node is to hold project components that don't belong anywhere else in the Projects tree. If that interpretation is correct, then this node should not be displayed for this project, since both the CMakeLists.txt and main.cpp files are already displayed elsewhere in the tree.
I've tested with snapshot 596 of Qt Creator 5.0 in Ubuntu 20.04.
relates to

QTCREATORBUG-24677 There is no fallback when cmake fails to configure a project

Closed

QTCREATORBUG-26297 Switching to "File System" view doesn't open the active project's directory

Closed

QTCREATORBUG-26293 Sidebar view menu selection doesn't contain keyboard shortcuts

Closed