Type: Bug

Priority: Not Evaluated

Affects Version/s:

Qt Creator 5.0.0-rc1
The GLSL editor that is included in Qt Creator does not support the latest features that are part of the Vulkan style GLSL.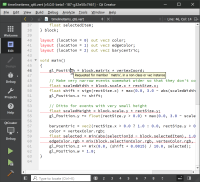 The Vulkan style GLSL is the shader language that has to be used for Qt 6: https://doc.qt.io/qt-6/qtshadertools-index.html
Most likely, the GLSL editor in Qt Creator is twice as old as Vulkan itself

We might just remove that.
Perhaps we could test an LSP-based one, such as: https://github.com/svenstaro/glsl-language-server (and maybe even package that one as binary).
is required for

QTCREATORBUG-26058 File wizards for GLSL files generate Qt 6-incompatible code

Reported