Type: Suggestion

Priority: Not Evaluated

Affects Version/s:

Qt Creator 6.0.0-beta1
The normal tooltip on a function call shows the function parameters with their appropriate types (1):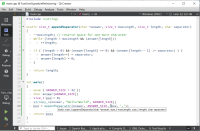 When during refactoring the signature changes (e.g. a new parameter was introduced), we get a Clang error, wich is good (2):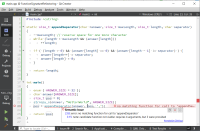 The tooltip says that four parameters are required, but only three provided. However, it would be better to have the function signature at hand to know which type of parameter is missing and at which position it has to be inserted. Unfortunately the tooltip from (1) is not available until the call is fixed. So the only way to get the information is to jump back to the function declaration.
It would be good to have a combination of the tooltips (1) and (2) to avoid jumping in the code.