Type: Bug

Priority: Not Evaluated

Affects Version/s:

Qt Creator 6.0.0-beta1

,

Qt Creator 6.0.0-beta2

,

Qt Creator 6.0.0-rc1

Environment:

Gentoo Linux AMD64
The background color when selecting multiple lines of text has seams in it between lines. This depends on font size. Example: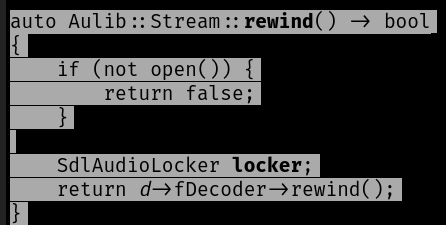 To reproduce, just hold down the keyboard's CTRL  key and scroll the mouse wheel up or down. This will change the font size. Some font sizes will have this issue, some won't.
Qt Creator 5 does not have this problem.
Edit:
I just noticed in this screenshot that there is no gap between the first and second line, but at the very end of the first line (after "bool") you can see that the height of the selection highlight is short by a pixel. This might be a hint as to cause of the issue.
depends on

QTBUG-98372 Regression Qt5 > Qt6: Visible gaps between selected lines

Closed