Type: Bug

Priority: Not Evaluated

Affects Version/s:

4.0.1-1

Labels:
Platform/s:

Sprint:

Qt Installer Sprint 31
When trying to get past the Open Source Use Obligations page in the offline installer, I usually unsuccessfully click 2-3 times on the confirmation checkbox until I remember that this particular checkbox needs to be hit right on the box.
Unergonomic for Qt standards. Most other checkboxes are clickable by their label (or "buddy label").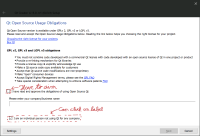 Could this be improved? Thanks